Election 2019: Where do our political parties stand on Tibet?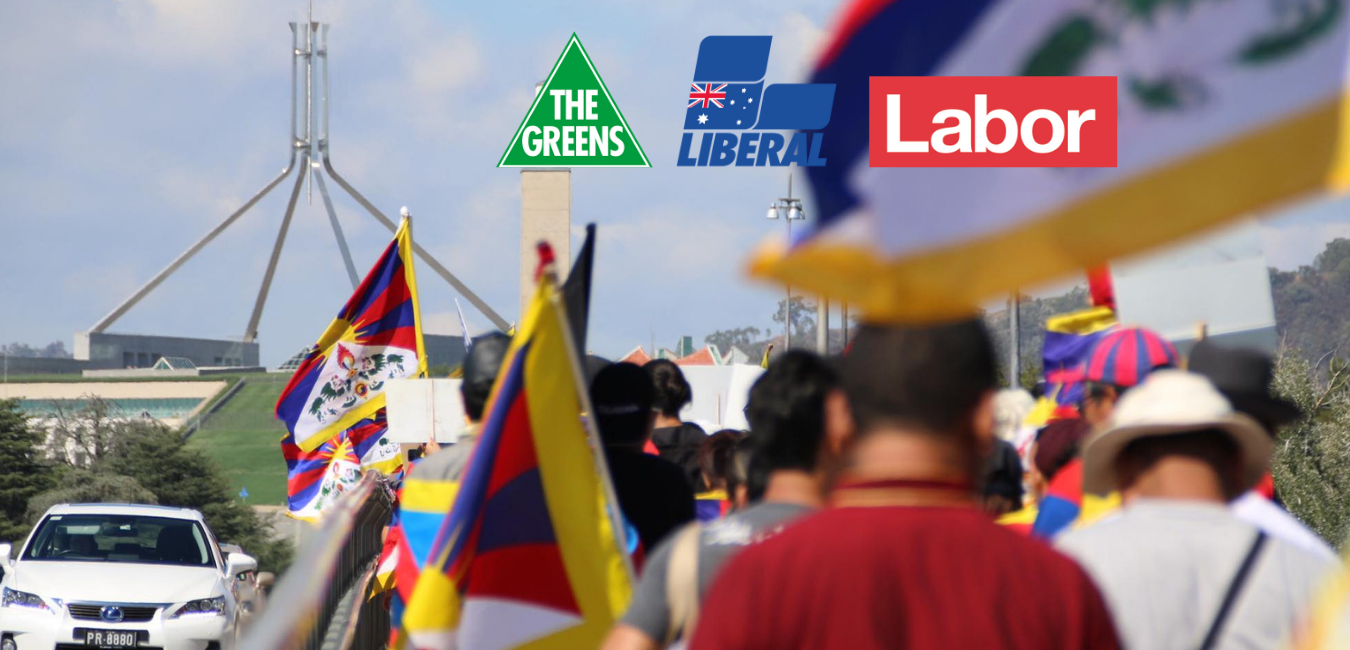 In the lead up to the federal election on 18 May, we asked the leading political parties where they stand on Tibet.

 

Our questionnaire touched on four main issues – the importance of human rights and Tibet in the Australia-China relationship; securing access to Tibet; recognising Tibetan leaders, and supporting the Tibet-China dialogue.

 

The Liberal/National Coalition and the Greens Party responded to all questions while the Labor Party provided a short statement broadly outlining its approach.

 

Below are their responses.
1) Human rights and Tibet in the Australia-China relationship
Australia shares a multi-faceted relationship with China. Mainly characterised by strong economic ties, the Australia-China relationship is one of interdependence. Human rights, however, have assumed a secondary place in this relationship. For the long-term prosperity of both nations, trade and human rights must go hand in hand.
1a) What level of priority will your party give to human rights in the Australia-China relationship, including the rights of Tibetans and Uyghurs?
High
Moderate
Low
1b) Specifically, how will you integrate human rights into your overall China policy?
Comments:
Liberal/National Coalition
Human rights considerations are an integral part of the Morrison Government's overall China policy approach. We routinely consider when and how best to raise our human rights concerns with China, including in terms of our broader interests. Australia is one of only a few like-minded countries that consistently raises human rights concerns, both publicly and directly with China. We do so through our regular bilateral engagement in Canberra, Beijing and through multilateral organisations, including the UN Human Rights Council and UN General Assembly.
We also continue activities through our Human Rights Technical Cooperation (HRTC)  Program with China, which is implemented through a partnership between DFAT, the Australian Human Rights Commission and China's Ministry of Foreign Affairs. HRTC activities have helped support a certain degree of improvement in the promotion and protection of human rights in China in mutually agreed areas, which include ethnic minorities.
Greens
High.
For the Greens, a focus on improving human rights in China and speaking out against abuses is central to our overall China policy.
We have a long history of supporting and working with the Tibetan people, as well as Uyghurs more recently, against the repression they face.
Labor
Read Labor's response to all questions below.
2) Access to Tibet
To avoid scrutiny from the international community, China has continued to deny foreign media, diplomats and independent observers unrestricted access to Tibet.
The recent report by the Foreign Correspondents' Club of China notes that reporters can travel anywhere in the country except to the Tibet Autonomous Region, with one journalist saying, "I was explicitly told reporting on Xinjiang or Tibet was off limits."
Since 2014, a group of Australian parliamentarians have taken keen interest to visit Tibet to develop a deeper understanding of the situation facing Tibetans under China's rule. However, their repeated requests to the Chinese Ambassador in Canberra to facilitate a visit have outrightly been ignored.
2a) Do you support promoting access to Tibet for Australian diplomats, journalists, and citizens, including Tibetan-Australians, just as Australia allows Chinese diplomats and others to travel freely to our country?
Yes
No
Liberal/National Coalition
The Morrison Government has publicly called for China to end its restrictions on freedom of movement into, around and within Tibet, for Tibetans, foreign journalists, and UN and foreign officials.
Most recently, on 6 November 2018, in our national statement on China's thirdUniversal Periodic Review at the UN Human Rights Council in Geneva, we recommended China "cease restrictions on Uyghurs' and Tibetans' freedom of movement and allow media, UN and foreign officials access to Xinjiang and Tibet". We also recommended China "strengthen measures preventing torture and ill-treatment", and "fully protect freedom of religion or belief by ensuring Chinese law supports the rights of individuals to freely practice their religion".
We have regularly sought official access to Tibet for our China-based diplomats, including the Ambassador.
Labor
Read Labor's response to all questions below.
3) Recognition of Tibetan leaders
The Dalai Lama has dedicated his life to promoting universal human values. As the leader of the Tibetans, he has led a non-violent freedom struggle and sought to find a resolution by seeking genuine autonomy for Tibet.
The Central Tibetan Administration based in India, also known as the Tibetan government-in-exile, has continued to follow the Dalai Lama's Middle Way Approach.
China works hard at undermining global support for Tibet by silencing Tibetan voices and pressuring world leaders not to meet the Dalai Lama and the head of Tibet's government-in-exile.
3a) Will your party leader meet with the Dalai Lama, a global icon of peace and compassion?
Yes
 No
3b) Will your party leader meet with the Sikyong, the elected political leader of Tibetans and the head of the Central Tibetan Administration, when he visits Australia?
Yes
No
Liberal/National Coalition
Australia does not recognise the Central Tibetan Administration (CTA) of which the Sikyong is President-equivalent and the Dalai Lama was the founding head.
However, Australians, including individual members of the Australian Parliament, are free to meet with CTA representatives in a private and unofficial capacity. ln November 2017, an Australian parliamentary delegation visited Dharamsala, India (home to the CTA) in an unofficial capacity.
Greens
Yes to both questions.
Labor
Read Labor's responses below.
4) Resolution of the Tibet issue
4a) By international law, Tibetans as a people, have the right to self-determination, that is "the right freely to determine, without external interference, their political status and to pursue their economic, social and cultural development."
By this definition, will your party support the Tibetans' right to self-determination?
Yes
No
4b) To find a negotiated solution to the Tibet-China conflict, the Dalai Lama has advocated what is called the "Middle Way Approach", a framework providing genuine autonomy for Tibetans while remaining under the People's Republic of China.
The Central Tibetan Administration follows the same principle and has been trying to engage in a dialogue process with the Chinese government.
China has consistently called the Tibetans' proposal a disguise for independence, despite the Dalai Lama's sincere efforts to win its trust. The Sino-Tibet dialogue that began in 2002 has been in limbo since 2010.
Will your party publicly support the dialogue process as a means of reaching a solution and endorse the Tibetans' call for genuine autonomy?
Yes
No
Liberal/National Coalition
Australia recognises Tibet as a part of China. This was implicit when Australia recognised the People's Republic of China in 1972. Australia's position on this conforms to that of the wider international community.
The Morrison Government supports direct talks between the Chinese Government and the Dalai Lama and/or his representatives.
Greens
Yes to both questions.
Labor
Read Labor's responses below.
Labor's response to all questions
Labor recognises community concerns regarding reports of ongoing and widespread human rights violations in the Tibet Autonomous Region.
Labor has been a strong advocate for human rights and civil liberties both in Australia and on the international stage, and we will continue to pursue effective human rights diplomacy that supports international and regional security in Australia's national interest. We recognise that promoting universal human rights should be an essential objective of Australia's foreign policy approaches, and to ensure this focus Labor has committed to establishing in government a Human Rights Ambassador.
Labor reaffirms the rights of all people to live in peace and freedom wherever they are, including ethnic and religious minority groups in China such as the Tibetans and the Uighurs.
Labor has raised concerns, privately and publicly, about human rights in China and will continue to do so.