Where do our political parties stand on Tibet?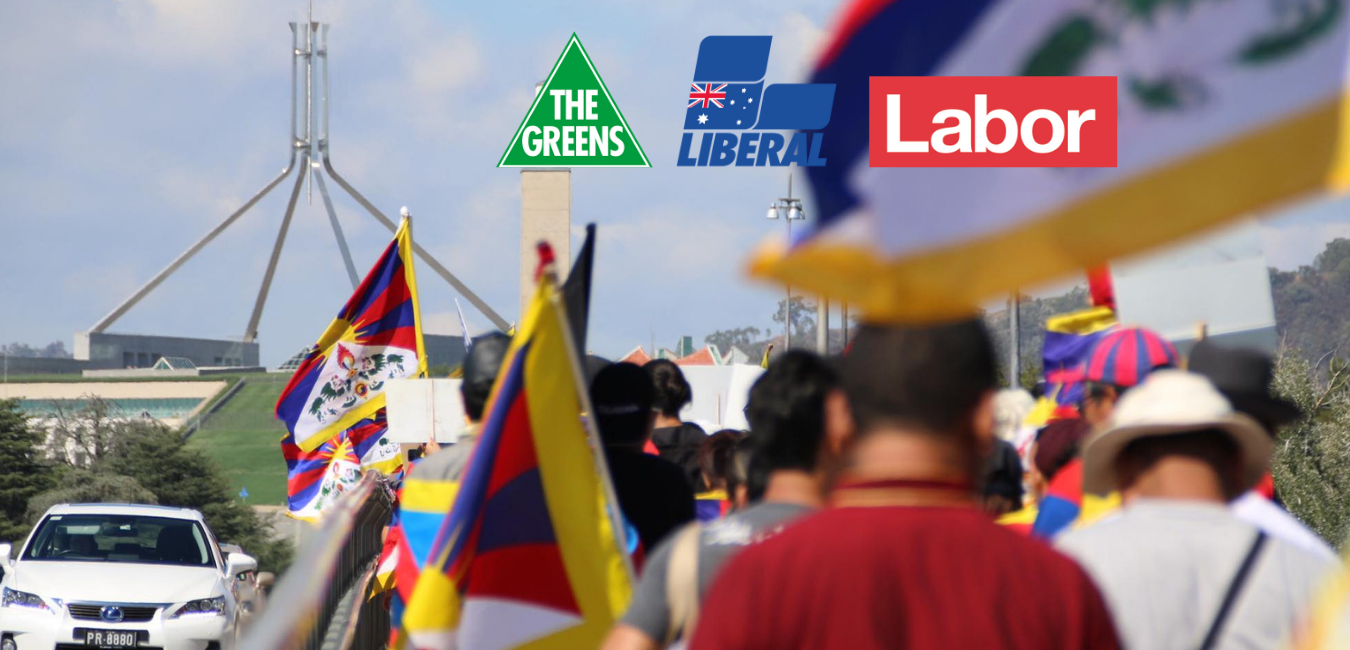 As we head into an election year, we are asking Australia's political parties to outline their positions on Tibet, the Dalai Lama, human rights, and the Australia-China relationship.
As a non-partisan, non-profit organisation promoting human rights and freedoms for Tibetans, Australia Tibet Council does not endorse any political party.
Our questionnaire aims to help inform our community of Australian Tibet supporters and Tibetan-Australians on where the political parties stand on the issue that matters to us. We are asking the parties what they will commit to doing when they win the 2019 election. We will share their responses with our community in the lead up to the federal election, most likely taking place in mid-May.
Tibet questionnaire
For the fourth time in a row, Tibet has been ranked the second least free country in the world with only Syria deemed to be less free, according to the Freedom in the World 2019 report by Freedom House.
Seven decades of China's rule in Tibet have stripped Tibetans of their fundamental human rights and made them second-class citizens in their own country. China's systematic attacks on Tibetan culture, religion and way of life and the exploitation of natural resources have caused deep-seated resentment.
This March marks the 60th anniversary of Tibetan Uprising Day. The brutal crackdown on the demonstrations led the Dalai Lama and thousands of Tibetans to flee into exile. Sixty years on, inside Tibet's borders and around the globe, Tibetans have continued their non-violent resistance.
With its deep ties with China, Australia is in a strong position to influence China to adopt a more humane and just policy on Tibet.
1) Human rights and Tibet in the Australia-China relationship
Australia shares a multi-faceted relationship with China. Mainly characterised by strong economic ties, the Australia-China relationship is one of interdependence. Human rights, however, have assumed a secondary place in this relationship. For the long-term prosperity of both nations, trade and human rights must go hand in hand.
1a) What level of priority will your party give to human rights in the Australia-China relationship, including the rights of Tibetans and Uyghurs?
High
Moderate
Low
1b) Specifically, how will you integrate human rights into your overall China policy?
Comments:
2) Access to Tibet
To avoid scrutiny from the international community, China has continued to deny foreign media, diplomats and independent observers unrestricted access to Tibet.
The recent report by the Foreign Correspondents' Club of China notes that reporters can travel anywhere in the country except to the Tibet Autonomous Region, with one journalist saying, "I was explicitly told reporting on Xinjiang or Tibet was off limits."
Since 2014, a group of Australian parliamentarians have taken keen interest to visit Tibet to develop a deeper understanding of the situation facing Tibetans under China's rule. However, their repeated requests to the Chinese Ambassador in Canberra to facilitate a visit have outrightly been ignored.
2a) Do you support promoting access to Tibet for Australian diplomats, journalists, and citizens, including Tibetan-Australians, just as Australia allows Chinese diplomats and others to travel freely to our country?
Yes
No
3) Recognition of Tibetan leaders
The Dalai Lama has dedicated his life promoting universal human values such as peace and compassion as well as harmony between the world's religious traditions. As a Tibetan leader, he has led his people to seek truth, non-violence and reconciliation in resolving the Tibet issue with China. The Central Tibetan Administration based in Dharamsala in India, also known as the Tibetan government-in-exile, adopts the same principle in its mission to restore freedom in Tibet and enjoys the legitimacy from Tibetans inside Tibet and worldwide.
China attempts to silence Tibetan voices on the global stage by pressuring world leaders not to meet the Dalai Lama and exiled Tibetan leaders.
Not a single Australian Prime Minister has met with the Dalai Lama over the past decade while world leaders such as Barack Obama, David Cameron and Angela Merkel had refused to bow to the Chinese pressure on this matter.
3a) Will your party leader meet with the Dalai Lama, a global icon of peace and compassion?
Yes
 No
3b) Will your party leader meet with the Sikyong, the elected political leader of Tibetans and the head of the Central Tibetan Administration when he visits Australia?
Yes
No
4) Resolution of the Tibet issue
4a) By international law, Tibetans as a people, have the right to self-determination, that is "the right freely to determine, without external interference, their political status and to pursue their economic, social and cultural development."
By this definition, will your party support the Tibetans' right to self-determination?
Yes
No
4b) To find a negotiated solution to the Tibet-China conflict, the Dalai Lama has advocated what is called the "Middle Way Approach", a framework providing genuine autonomy for Tibetans while remaining under the People's Republic of China.
The Central Tibetan Administration follows the same principle and has been trying to engage in a dialogue process with the Chinese government.
China has consistently called the Tibetans' proposal a disguise for independence, despite the Dalai Lama's sincere efforts to win its trust. The Sino-Tibet dialogue that began in 2002 has been in limbo since 2010.
Will your party publicly support the dialogue process as a means of reaching a solution and endorse the Tibetans' call for genuine autonomy?
Yes
No