DONATE TO TIBET LOBBY DAY
HELP GET TIBETANS TO CANBERRA!
Donate to power our Lobby Day. Tibet Lobby Day happens every year. Help get our Tibetan participants to Parliament House.
Sponsoring their trip is the most powerful and direct way you can contribute.
Your contributions will enable us to:
Join with Tibetan communities around Australia to find and bring the best and brightest delegates to represent Tibet to the parliamentarians.
Provide ongoing advocacy training and prepare the delegates prior to Tibet Lobby Day to ensure our delegates feel ready to connect the most pressing issues facing Tibetans to their personal lives and experiences.
PROTECTING THE FUTURE DALAI LAMA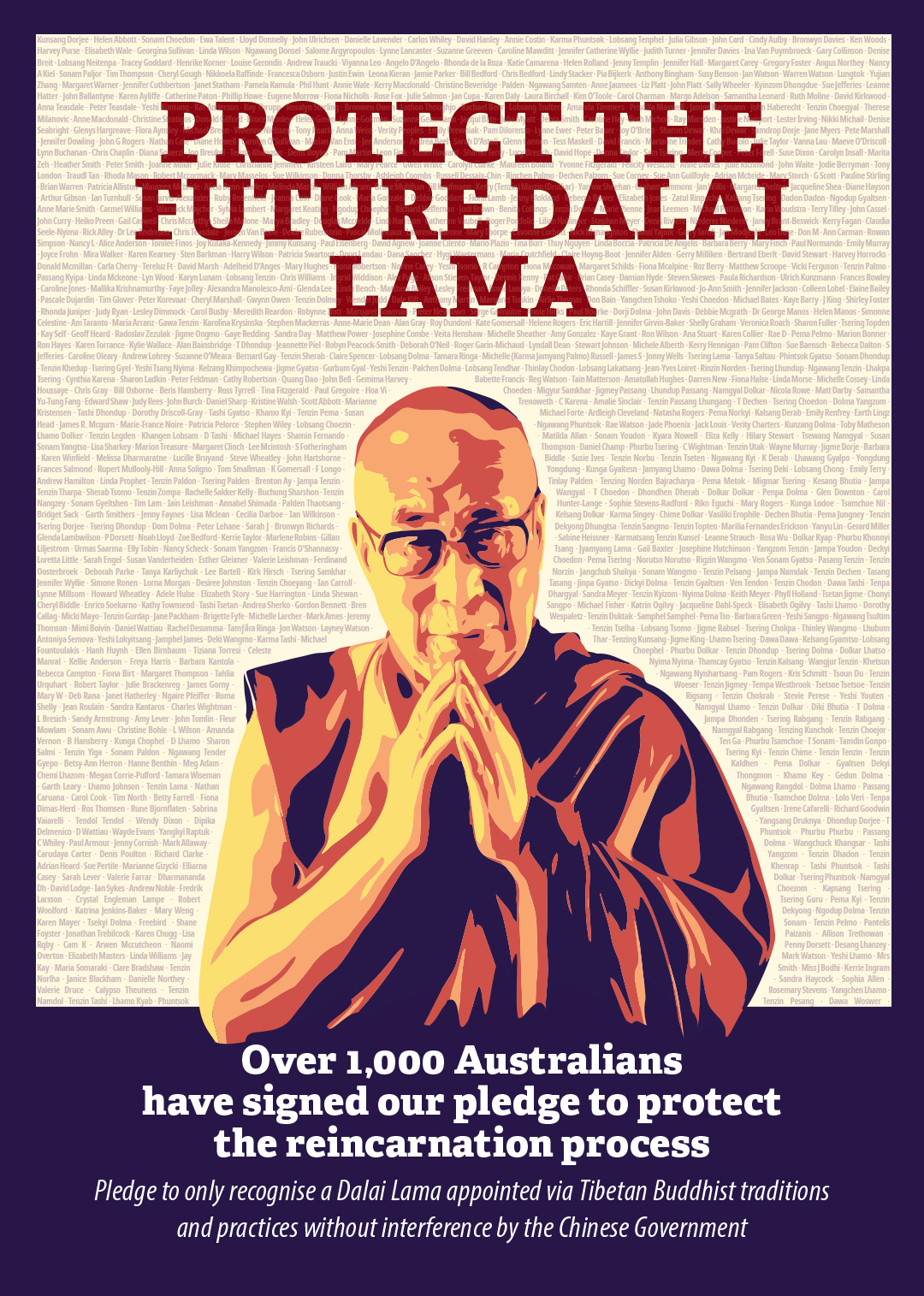 The atheist Chinese Communist Party bans practicing religion through repressive policies and arbitrary policing in Tibet. Having a photo of the Dalai Lama is considered reason enough to have you arrested.
The same government has released a decree to control the reincarnation of the Dalai Lama, which they stipulate "must comply with Chinese laws and regulations."
We know that they are planning to control the next Dalai Lama – and we don't accept this.
The US Government has already passed laws to recognise only Dalai Lama appointed by Tibetans. We want the same from the Australian Government.
More than a thousand Australians have pledged their support. The mosaic art features all of their names. Take the pledge and support the Dalai Lama
"I pledge to only recognise a Dalai Lama appointed via Tibetan Buddhist traditions and practices, without interference by the Chinese Government."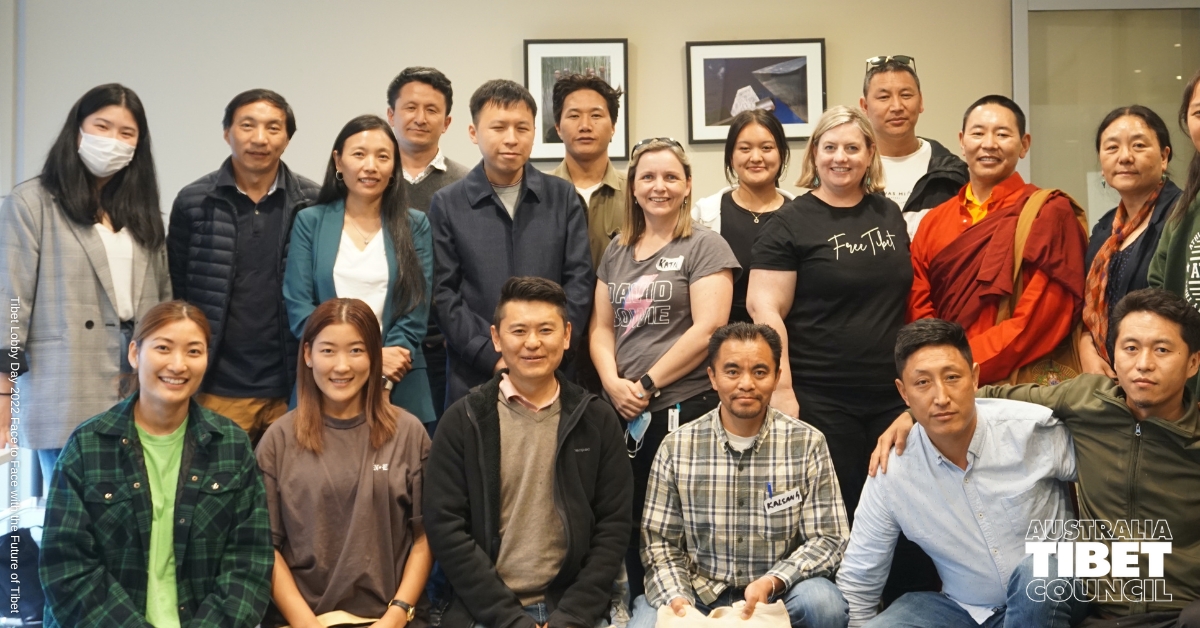 Training Day: As a part of our preparations our delegates received a full day of training to make the most out of their meetings.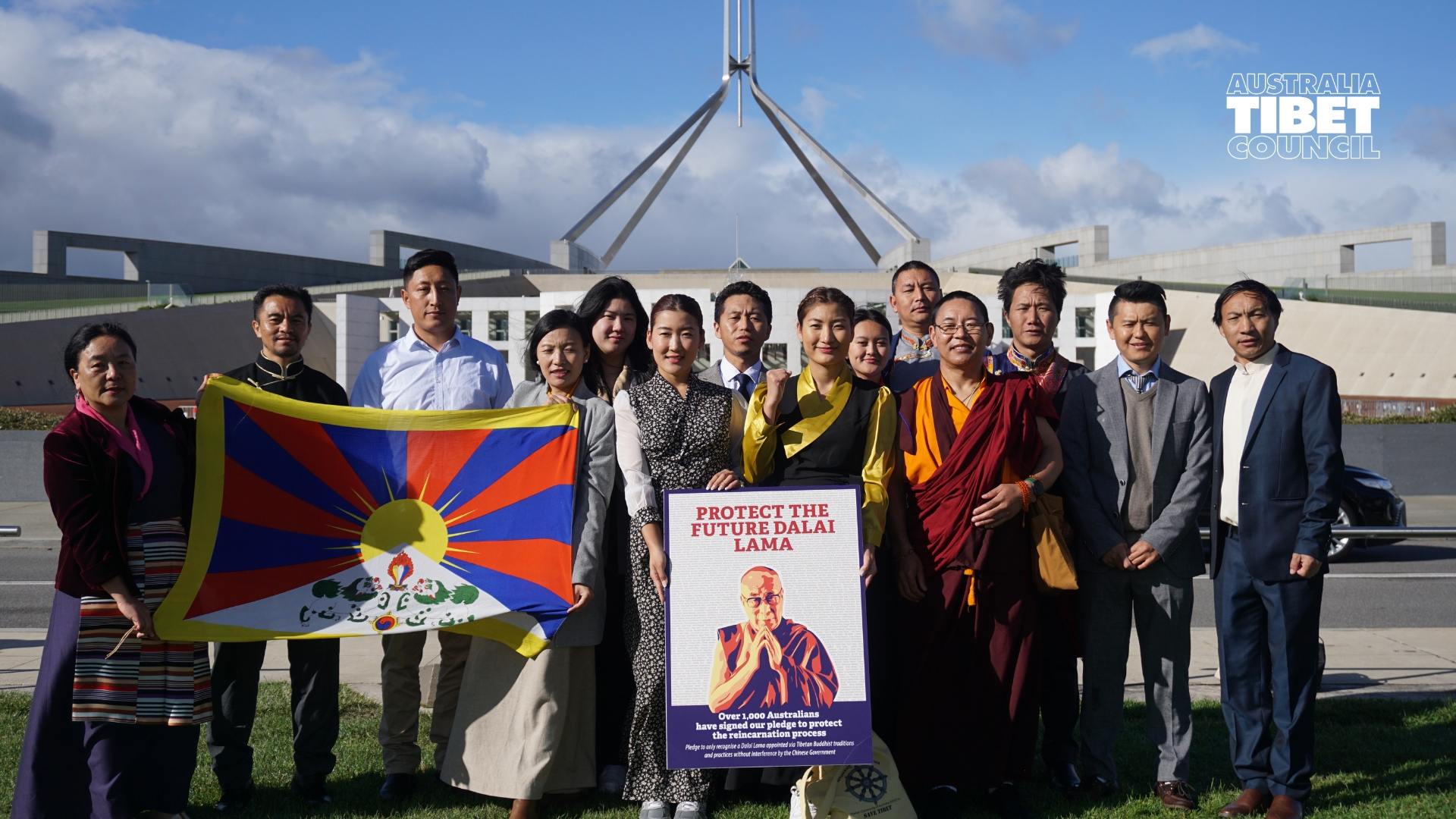 A proud moment: Our delegates with holding the Tibet flag and ATC's 'Protect the Dalai Lama' poster in front of the Parliament House.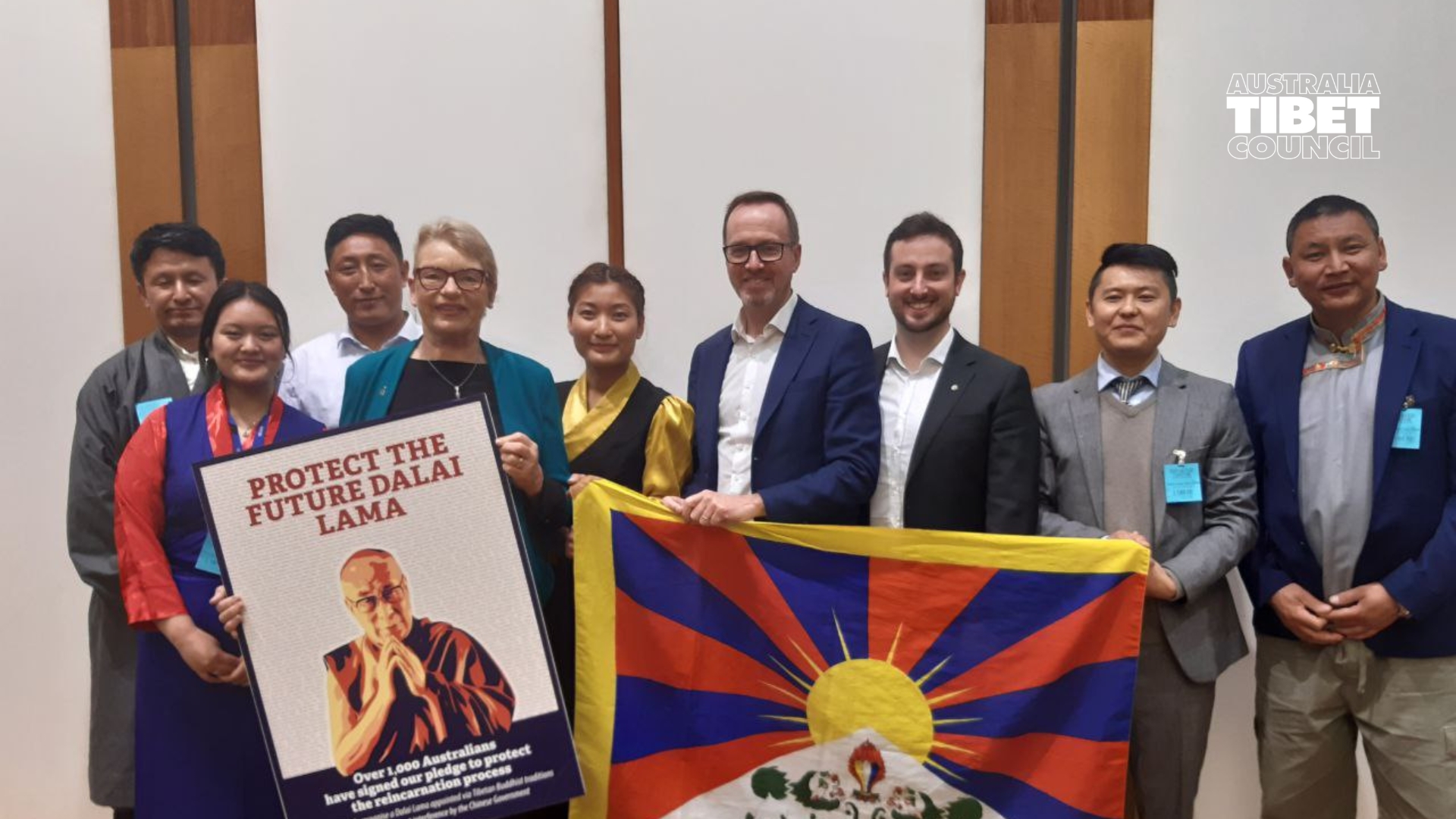 Senator Janet Rice, Senator David Shoebridge and Stephen Bates MP were presented with ATC's 'Protect the Future Dalai Lama' poster and the Tibetan flag by our delegation.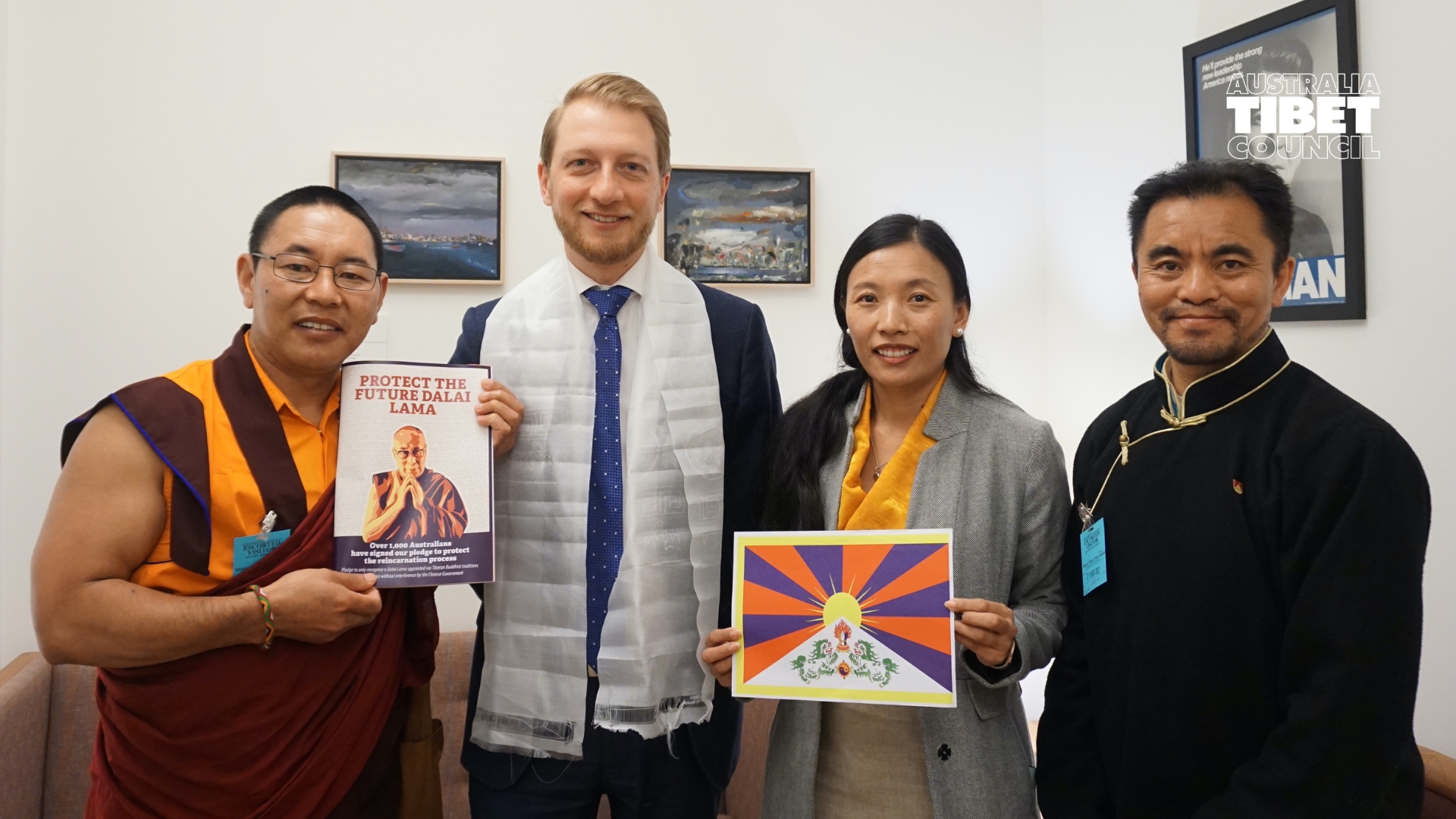 Senator James Paterson expressed his support for our Asks for Magnitsky sanctions and said reciprocity is a reasonable principle for Australia to adopt.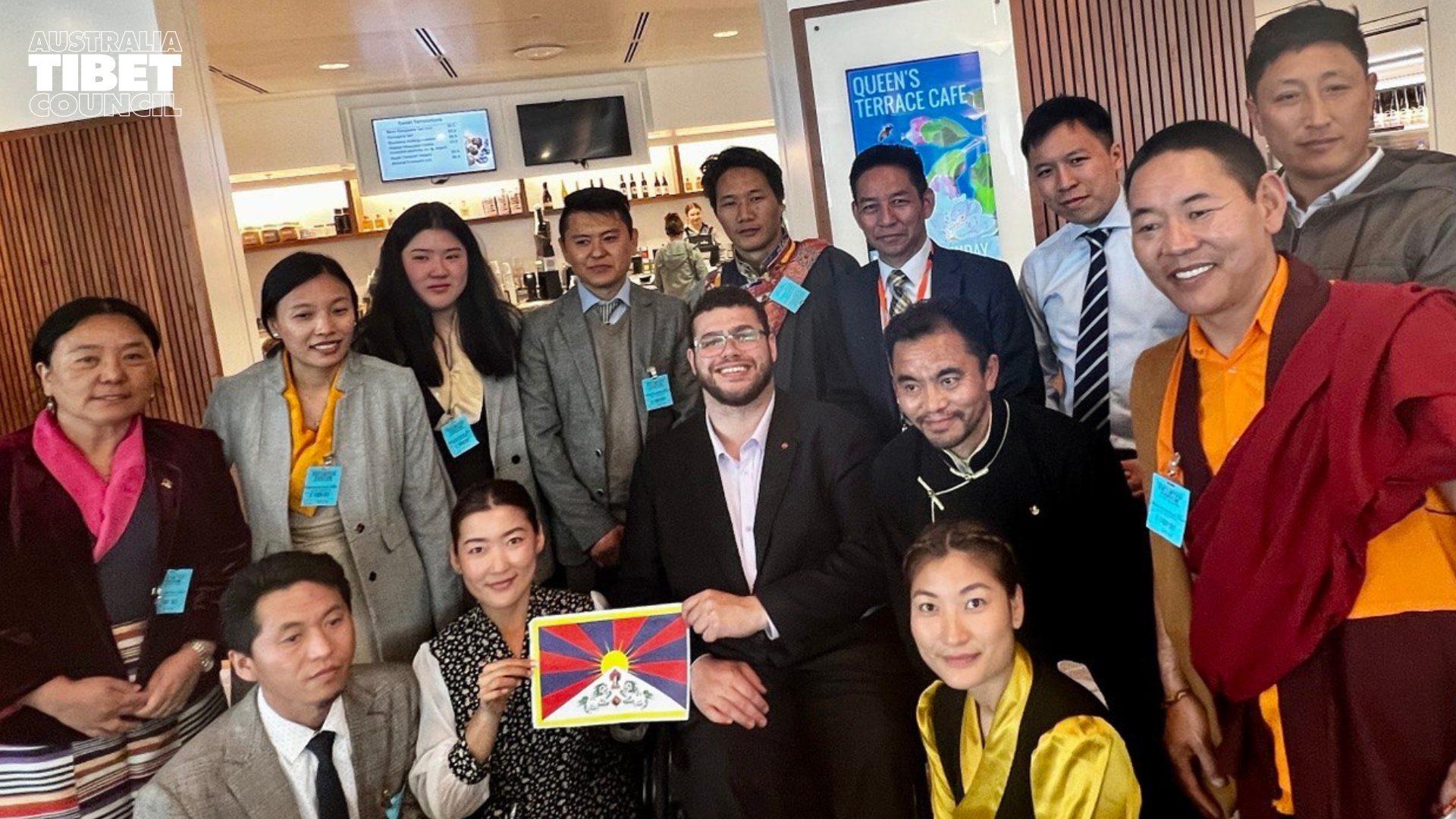 Senator Jordan Steele-John with our delegation and Mr. Karma Singey, Rep. of His Holiness the Dalai Lama in Australia.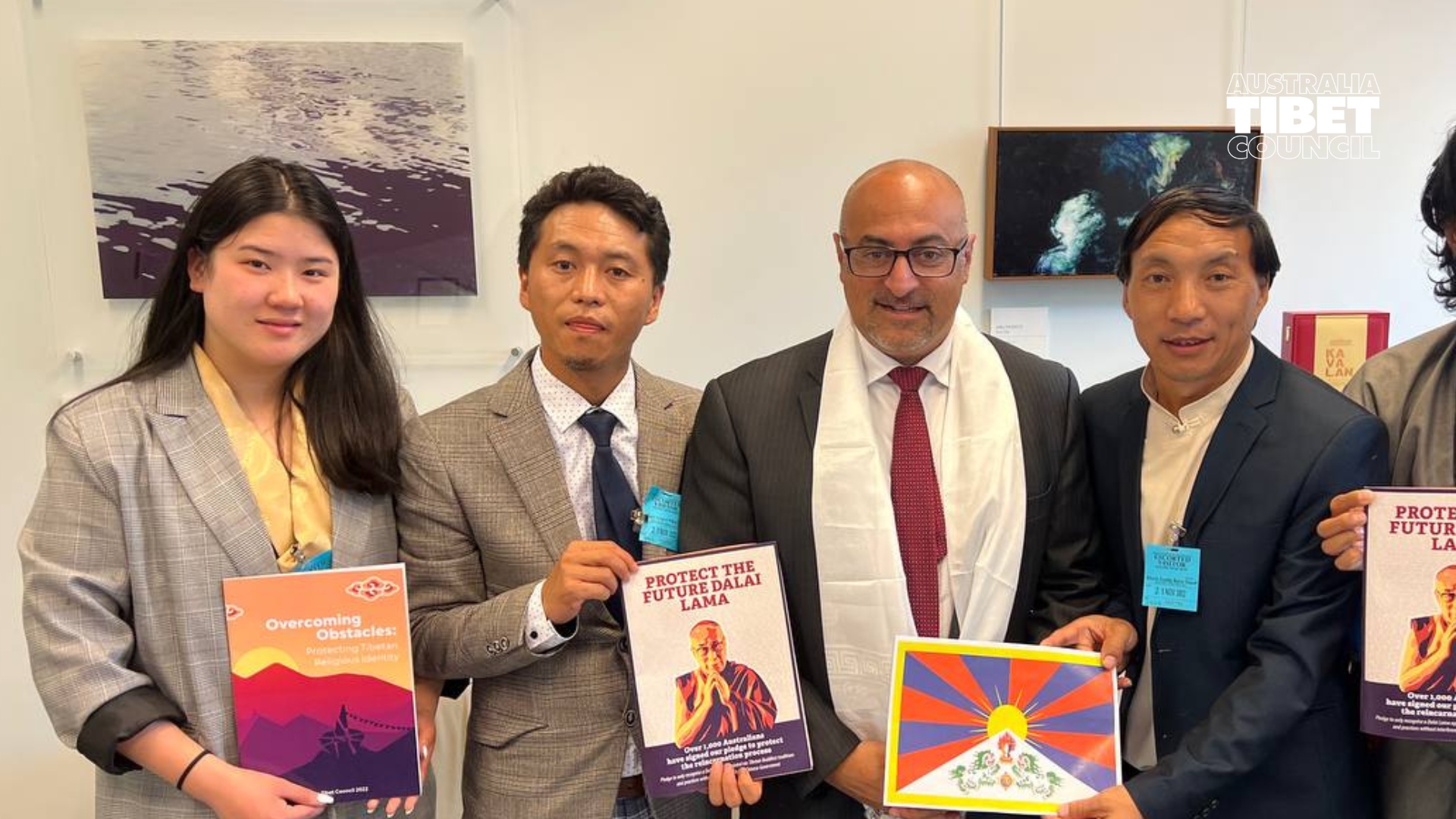 Mr. Peter Kalil MP met our team and was keen to learn about the current human rights situation in Tibet.
Tibet Lobby Day is an annual event where we take our supporters and Tibetans to meet with Parliamentarians to talk about different issues concering Tibetans.
We strive to make human rights issues in Tibet an important part of Australia's relationship with China. We do this by engaging our political leaders and ensuring the voices of our community and Tibetan-Australians are heard.
The Covid-19 pandemic had forced all of us to find new ways of getting things done. We had online Tibet Lobby Days in 2020 and 2021 to make sure we kept speaking up for Tibet even as we were living through strange times.
However all restriction have now been lifted and this year we return to Canberra in person.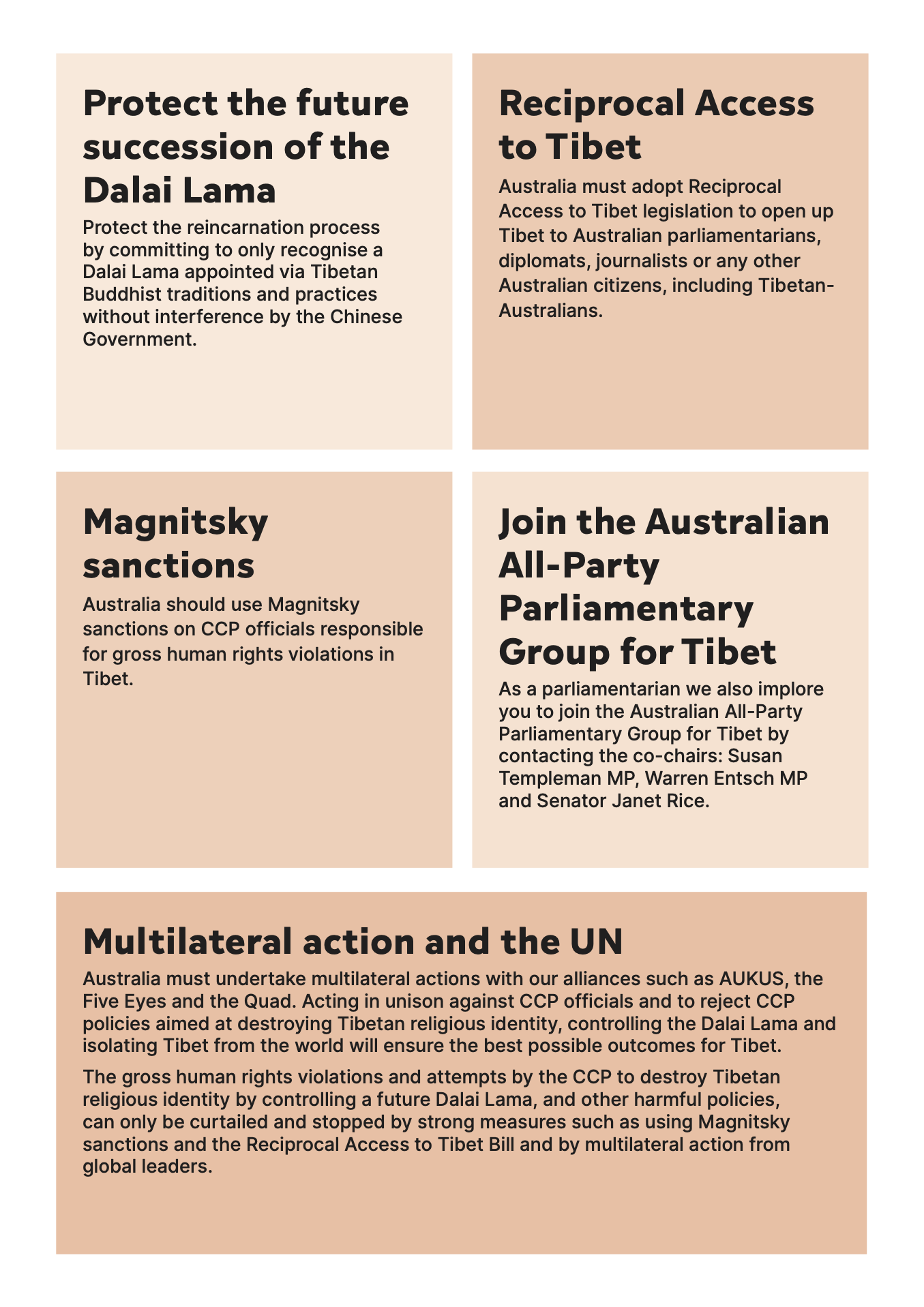 MEET OUR TIBET LOBBY DAY 2022 DELEGATES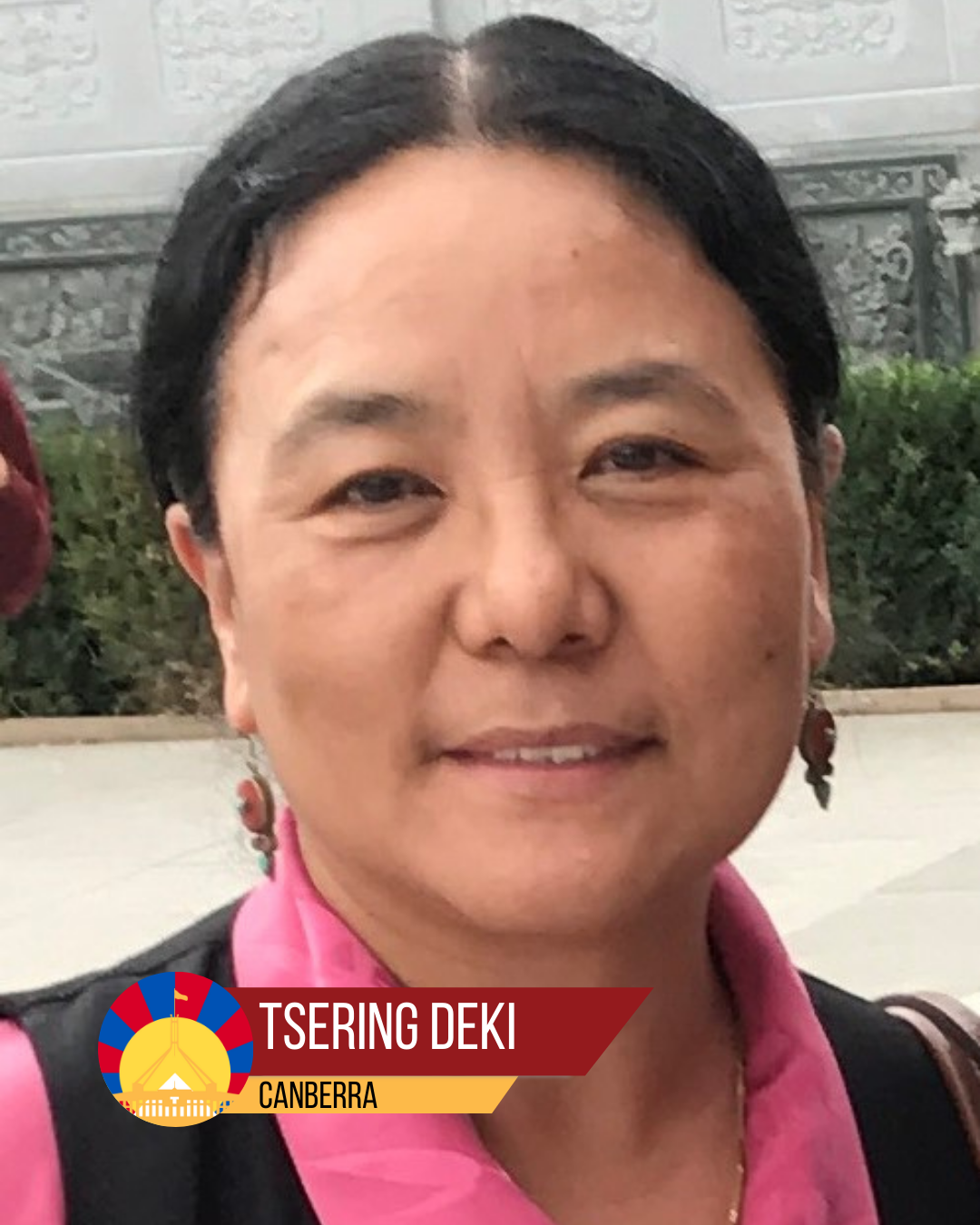 Tsering Deki - ACT
"​​I'm a Tibetan-Australian, born and raised in India, living in Canberra. I've never been to Tibet. Before we became Australian citizens, my husband, our children and I were stateless. Our Aussie friends and colleagues were shocked to hear that we were stateless. But this is the sad truth about many Tibetan refugees including my parents who escaped into exile to India following the Chinese occupation.
Growing up in Dharamsala, India, I thought we were only there temporarily and soon we would all return to Tibet. It is now over 63 years since His Holiness the Dalai Lama and thousands of Tibetans sought refuge in India and neighbouring countries. His Holiness turned 87 in July this year. To think that the Chinese Communist Government wants to have a say and interfere in the process to identify his reincarnation is not acceptable. That's why this Lobby Day, I want to urge the Australian Government to pass a resolution that it will only recognise a Dalai Lama appointed via Tibetan Buddhist traditions and practices, without interference by the Chinese Government. I would like Tibet to be accessible to all who want to visit Tibet and for that I'm also lobbying the Australian Government for a Reciprocal Access to Tibet Act."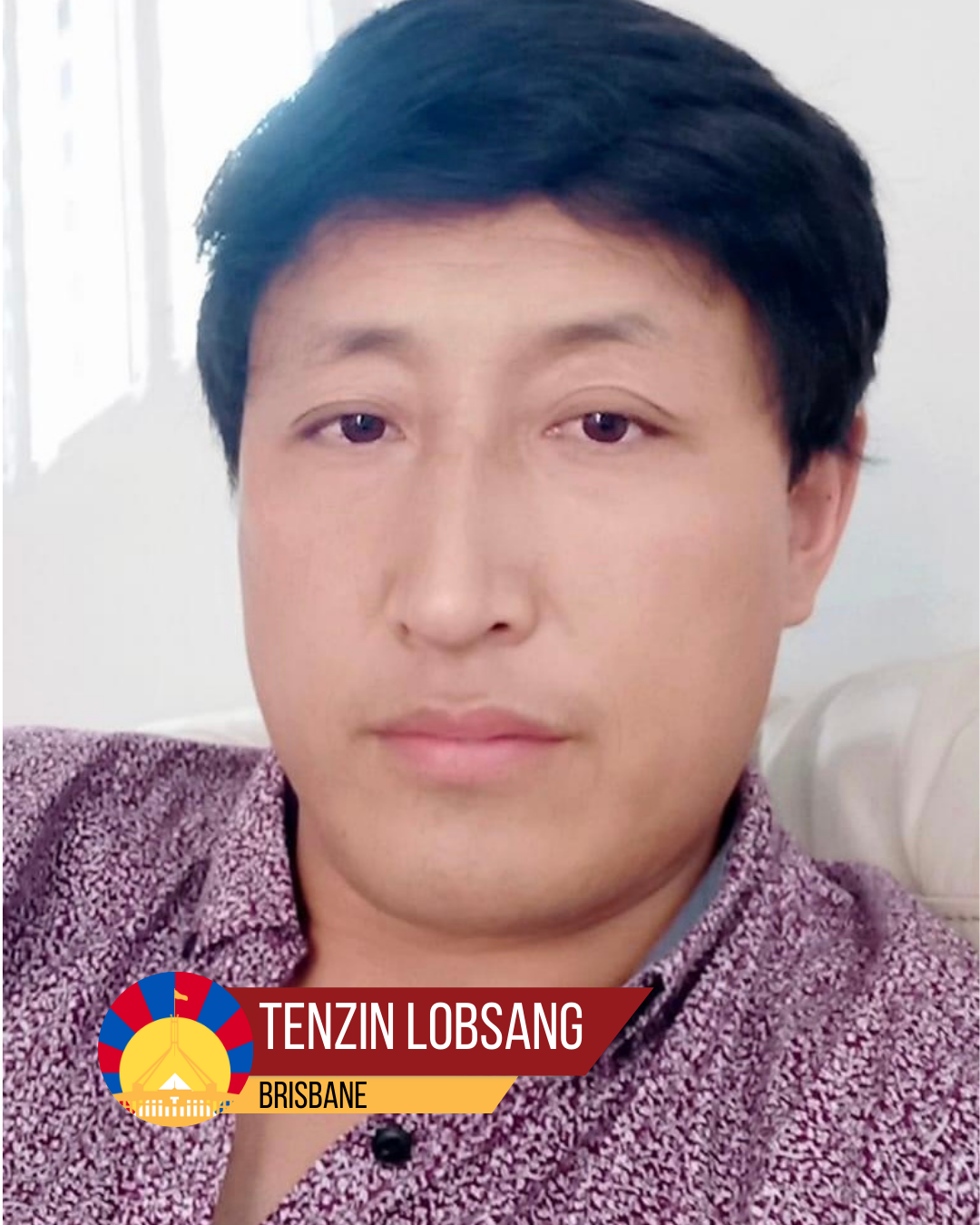 Tenzin Lobsang - QLD
Tenzin Lobsang was born and raised in Tibet. He escaped to India and later moved to Queensland, Australia in 2018. Tenzin is passionate and a strong advocate for conserving Tibetan tradtional art and culture.
Yama Choezom - NSW
Yama Choezom was born in Tibet and brought up in India. She was educated through Tibetan Children's Village School. Yama is now a qualified solicitor, and currently works as litigation lawyer at the NSW Department of Planning and Environment.
Although Yama is aware that there are risks with speaking out about Tibet, she does not want to surrender to CCP intimidation.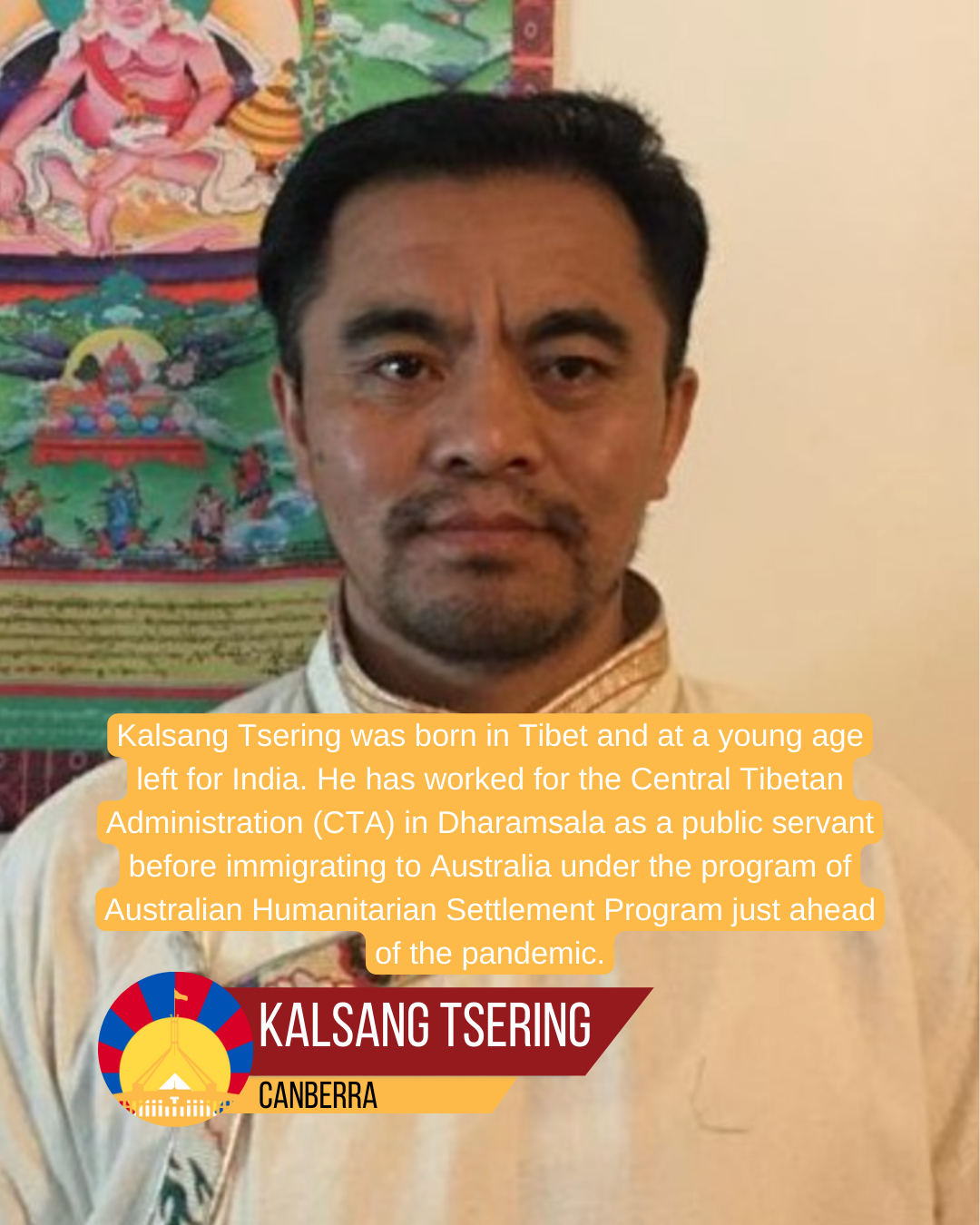 Kalsang Tsering - ACT
Kalsang Tsering was born in Tibet and at a young age left for India. He has worked for the Central Tibetan Administration (CTA) in Dharamsala as a public servant before immigrating to Australia under the program of Australian Humanitarian Settlement Program just ahead of the pandemic. Kalsang is now the President of the ACT Tibetan Community and Chair of the Tibetan Communities of Australia.
Kalsang has a wealth of experience to bring to the team heading to Canberra in 12 days, as he was a member of the Tibetan negotiation team led by the Special Envoy of His Holiness the Dalai Lama late Mr. Lodi G. Gyari and participated at the Eighth Round of Talks with the Chinese leadership.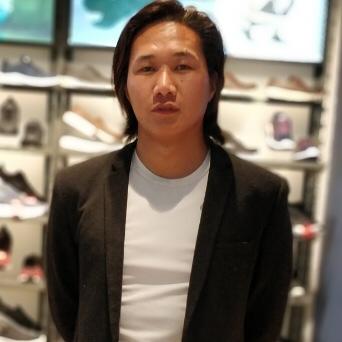 Tashi Gyaltsen - VIC
My name is Tashi Gyaltsen and came to Australia last year.
I was born in Tibet and brought up in India and did all my schooling in India as well. I was an active member of the Tibetan Youth Congress during my college years but later I found out that to solve a Tibet-Sino conflict, we need to have a meaningful dialogue on the basis of truthfulness and transparency, which I firmly believe in the Middle way approach policy of resolving the seven decades of Tibet-Sino conflict.

I am here joining for the first time on Tibet Lobby day and I am interested and look forward to meeting the Australian Tibet Council members and especially speaking to the Parliamentarians about the Tibet issues.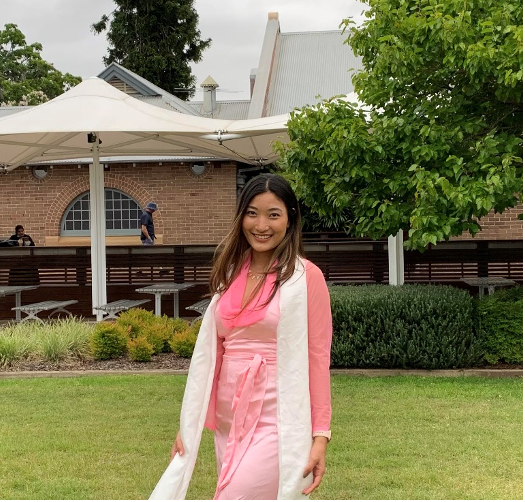 Pema Yangki - NSW
Hi, I'm Pema Yangkyi, I was born and grew up in India. My parents, they both are activists and they escaped from Tibet to India looking for safer place.
During my childhood I have a good understanding of what is happening in Tibet as my parents shared their stories and I always enjoyed history at school. I came to Australia with family in 2013. I am currently studying and doing part time job in health sector.
I am still gaining more knowledge from other Tibetan activists in Australia and educate the younger generation specially those who born in Australia.
I am very honoured to be part of Lobby Gay representing Tibetan community.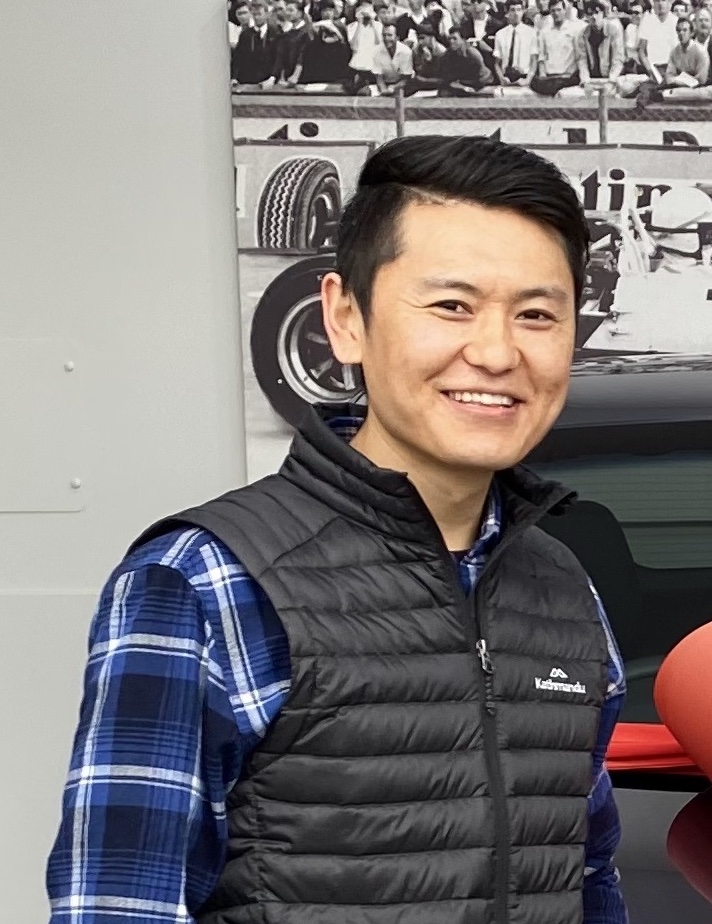 Tsering Yeshi - VIC
My name is Tsering Yeshi. I was born in 1988 in Khumbu region of Nepal which has a closed border connection with Tibet. I spent my early childhood in Khumbu. For Tibetans this region is one of the popular gateway to exile in India.
I saw a traumas and serious physical injuries faced Tibetan while passing across Himalayan borders and sometimes news of those unlucky Tibetans deported to China made me upset and angry and realized how unsafe my childhood was as Tibetan.
Unfortunately, Nepal's determination one China Policy never been changed and in fact life of Tibetans living in Nepal is getting harder.
About my education I did my both primary and secondary education from Tibetan refugee school in Nepal and then completed Master in Economics from India in 2015. I decided to leave Nepal and came to Melbourne in 2017 because living under shadow of One China policy in Nepal is making life harder and hopeless for identity less refugee like me in Nepal.
I had opportunity to work in Central Tibetans Administration In India and in 2016 I coordinated projects in one of Organization called Himalayan Society For Youth and Women Empowerment (HSYWE) for Tibetans communities in Nepal.
Its been 5 years since I have been living in Melbourne and here I work in retail shop. As I manage to adapt with new culture and system in foreign land, my top priority is always to preserve my Tibetan identification by promoting, practicing while integrating with new environment.
TIBET LOBBY DAY OVER THE YEARS