63rd Uprising Day – 10 March 2022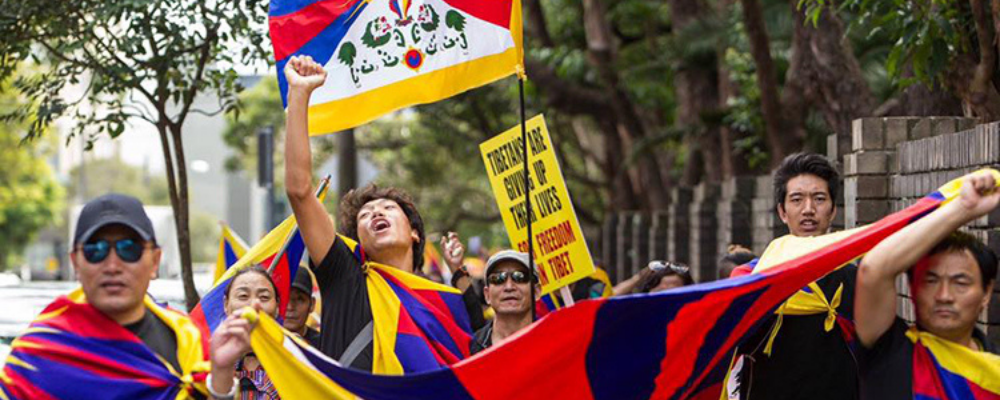 JOIN MARCH 10 PROTESTS IN CITIES ACROSS AUSTRALIA
| | | |
| --- | --- | --- |
| CITY | TIME | LOCATION |
| Sydney | 9:00 AM (AEDT) | Dee Why – Walter Gors Park |
|   | 10:00 AM | March towards Manly |
|   | 11:30 AM to12:30 PM | Rally at Corso Manly |
|   | 1:30 PM to 2:30 PM | Rally at Martin Place |
| Canberra | 10:30 AM to 1:30 PM (AEDT) | Garema Place |
|   |   | March towards Chinese embassy |
| Melbourne | 9:30 AM to 12:00 PM (AEDT) | State Library of Victoria, Melbourne |
|   | 1:00 PM to 2:30 PM | Chinese consulate, 534 Toorak Rd, Toorak |
| Newcastle | 10:00 AM to 2:00 PM (AEDT) | Newcastle Civic Park |
| Brisbane | 10:30 AM (AEST) | King George Square |
|   |   | March towards China Town and back |
|   |   | Prayers for late Tsewang Norbu la |
| Perth | 3:00PM to 6:00 PM (AWST) | Chinese Consulate Perth (45 Brown Street, East Perth) to Forrest Place at Murray Street, Perth City |
The history of Tibetan Uprising day:
March 10, 1959, was a historic day when tens of thousands of Tibetans took to the streets of Lhasa, Tibet's capital. They were rising up against China's illegal invasion and occupation of their homeland. Concerned about the life of the Dalai Lama, they surrounded the Dalai Lama's home, the Potala Palace, determined to protect his life and the future of the Tibetan nation. Tens of thousands of Tibetans were killed when Chinese soldiers opened fire, but they refused to surrender, and many risked their lives to ensure the success of the Dalai Lama's escape to India, where he has lived in exile since, tirelessly advocating for the people of his homeland, Tibet.
Since that time, March 10 has been known as Tibetan Uprising day – a day where Tibetans around the world, including in Tibet show their continued defiance of the Chinese Government.
This March 10, Tibetans and their supporters in major cities around the world will rise up for Tibet to:
Stand in solidarity with the Tibetan people to show them they are not alone and that the world is responding to their calls for freedom, and 

Call on our governments to challenge China's repression in Tibet and to unite to help resolve the Tibet crisis.
March 10 is a day that serves as a reminder to all – especially to the Chinese Government – that the spirit of the Tibetans who rose up on that day in 1959 grows stronger every day, that a new generation of Tibetans is determined to complete the struggle that began over half a century ago, and that a growing global community stands in solidarity with them in their fight for freedom.