The following is the statement from the Office of His Holiness the Dalai Lama.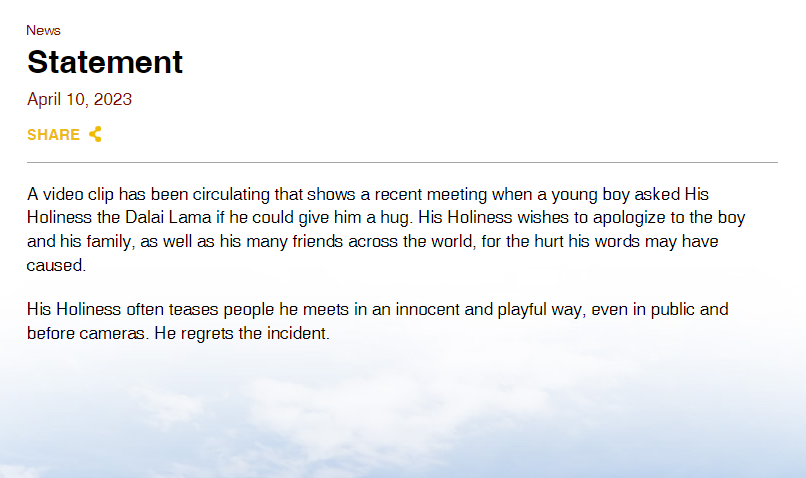 ATC believes His Holiness' statement is complete. As you can see from his statement, this is an incident that the Dalai Lama regrets and we won't be commenting further except to say that anyone who has followed the Dalai Lama closely knows that he's a jovial and empathic person. We know that his intentions here were not anything other than light-hearted and he meant no harm.
There are countless hours of footage online of His Holiness' public engagements over the past four decades and they show his meetings with people from every possible background and of all ages and clearly show he is unconventionally open and light-hearted for a world leader. He is known for his relaxed nature while on stage – like pinching people's noses, pulling beards, and making funny faces at the audience.
While it is understandable that this incident has caused some concern amongst the public, ATC believes the Dalai Lama's lifetime of public service and record of tireless advocacy for world peace and promotion of compassion speaks to the person he is.
We thank you for showing understanding during this time.
ATC also wishes to assure you that our mission is unchanged and will continue to campaign for the freedom and human rights of the Tibetan people.
Our vision is a free Tibet in which Tibetans can determine their own future and freely pursue their cultural, political and economic developments. We will not give up!