Going the distance for Tibet
In 1994, Tenzin Dhonyoe was sentenced to imprisoned in a Chinese prison. His alleged crime – refusing to denounce and degrade the Dalai Lama.
Tenzin was only 17 years of age at the time and had been studying Tibetan Buddhism as a novice monk since he was 7 years old.
He was given a twelve-year sentence.
Inside prison, Tenzin endured both mental and physical torture at the hands of the Chinese prison guards on a daily basis for almost 6 years – treatment that was endured by all of the other monks, nuns and Tibetans being held.
Police would enter his cell daily, or every second day, and whilst his hands were handcuffed behind his back and his feet tightly shackled together, beat him, stamping repeatedly on the back of his neck, punching his face, causing broken bones, teeth knocked out, profuse bleeding, and severe pain.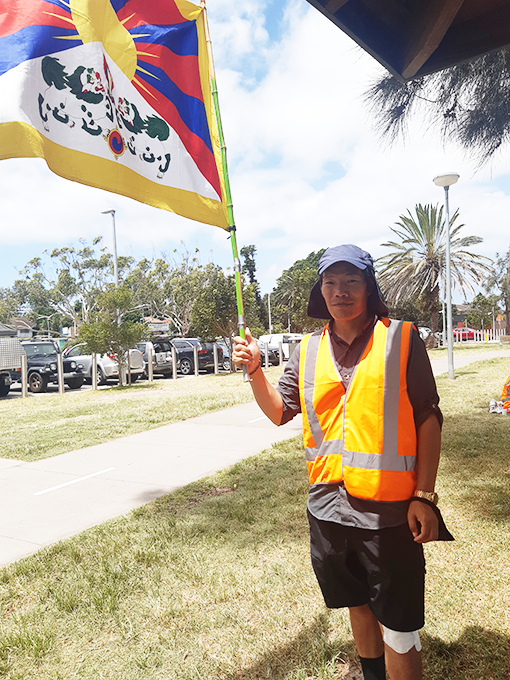 Electric shocks and broken bones
He was subjected to repeated electric shocks to various parts of his body on a daily basis, often multiple times a day. Shocks were given to his head, heart and back. These shocks were not monitored or limited to a painful but "safe" level, but at the complete discretion of the torturer. He speaks of the severe pain and of often passing out for hours, maybe days, at a time. Deaths from this treatment occurred frequently.
On top of this, prisoners were only fed a small amount of rice mixed with water, like a rice soup, once a day, or sometimes only every second or third day. Apart from this they were given nothing else to eat or drink. They were also given no water, or products for personal hygiene, to clean teeth, wash their body etc.
After about five and a half years, Tenzin was put to work outside the prison. Every day, he was taken to a worksite where they quarried stone for the government to use for building houses. To enable them to work their handcuffs were taken off and the shackles on their ankles loosened.
Some months after Tenzin was put to work, after explosives were used to blast the rock, Tenzin and his fellow prisoners were unable to escape the mass of falling stone. Three men died on the spot and another four were badly injured, including Tenzin.
Tenzin had very severe injuries – a broken left foot, and several broken bones in his left leg. He describes his leg as being completely flattened. He had a further three broken ribs on his left side and his left arm was broken in several places.
He doesn't clearly remember the full extent of all his injuries.
After the accident he was taken to a local hospital where their only advice was to amputate the entire left leg.

They called his sister to collect his body
Despite this consultation, he was given no treatment, no medicine, but taken back to his cell where he lay for two days, almost bleeding to death. On the third day the Chinese guards called Tenzin's sister to collect him as they thought he was about to die.
Tenzin was eventually moved to a hospital. After spending around 18 months healing and recovering some of his strength, Tenzin escaped from the hospital.
Travelling by foot, still limping badly and in poor health, he walked out of Tibet across the mountains to Nepal. After arriving in Nepal, he spent a further six months in hospital for treatment.
From Nepal, Tenzin travelled to India, going to Dharamshala via Delhi. In Dharamshala, Tenzin met with His Holiness the Dalai Lama, who told him he should go to Chandigarh to receive more medical treatment as his body and health were still very bad. Tenzin spent around 15 more months in hospital in Chandigarh.
Arriving in Australia in 2020, Tenzin continues to have leg pain most days – always worst in the cold weather. The abuse and electric shocks have affected Tenzin's short-term memory (though scriptures he memorised as a child, he can remember clearly).
He has recently had more corrective surgery to his leg. Such is his dedication to telling the truth about the occupation of his homeland, he marched the 160 km from Newcastle to Sydney to protest the opening of the 2022 Beijing Winter Olympics.
Chinese government efforts to control monks and nuns, control the day-to-day practice of Buddhism in Tibet – and even control the reincarnation of the Dalai Lama – will not stop without international attention and pressure.