Say No to Chinese Propaganda
CAMPAIGN UPDATE: We've just shut down China's Confucius Institute for the first time in Australia!

After more than a year of campaigning, the NSW Department of Education will end its Chinese government-funded and controlled language program in 13 schools.
This is a massive win for our movement. 
Thank you to all our supporters and especially to our allies – Chinese democracy activists and Falun Gong practitioners who have been with us on this campaign since the beginning.
***
Confucius Institutes and Confucius Classrooms are by the Chinese government's own admission part of its overseas propaganda set-up.
Funded and controlled by the Chinese government, Confucius Institutes are embedded in our universities and Confucius Classrooms in our public schools. Under the disguise of teaching Chinese language and culture, they are used as propaganda outlets and pose a threat to the integrity and academic freedom of our universities and schools.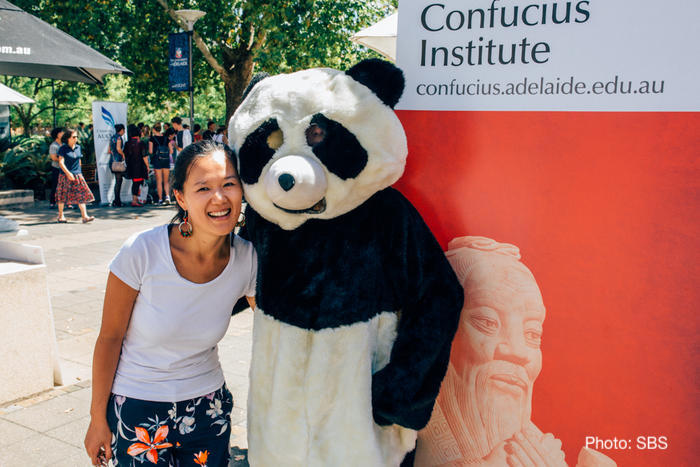 According to Hanban, the agency under China's education ministry that oversees these programs, there were 548 Confucius Institutes and 1,193 Confucius Classrooms in 147 countries at the end of 2018.
In Australia, there are 14 Confucius Institutes and 67 Confucius Classrooms.
Pressure has been mounting on the educational institutions hosting these Chinese language programs to terminate their controversial partnerships with China as evidence of propaganda and censorship has grown in recent years.
In February 2019, a US Senate sub-committee report noted that these programs have acted as tightly controlled propaganda arms for Beijing and that they should be changed or shut down.
Canada's McMaster University was the first university reported by the media to close a Confucius Institute in 2013. Since then, more than 30 educational institutions in the US and Europe have cut ties with the Confucius Institutes.
In 2019, it is time for Australian universities and schools to say no to Chinese propaganda and ensure that young minds are allowed to think independently.
With Australia's new law countering foreign interference taking effect in March, this year, we are renewing our campaign to push universities and schools to close the Chinese government-controlled programs.
Why do we have a problem with Confucius Institutes and Confucius Classrooms?
We do not have a problem with teaching Chinese language and culture as long as this teaching is free from interference from a foreign, repressive government like China.
We have witnessed how these programs have attempted to spread a distorted view of China, control the discourse and silence discussions on Tibet, Taiwan, Falun Gong, the Tiananmen Square massacre and other uncomfortable truths.
China's propaganda programs are not only a threat to the Tibet movement, but also to the integrity of Australia's public education.
Here are some examples relating to Tibet: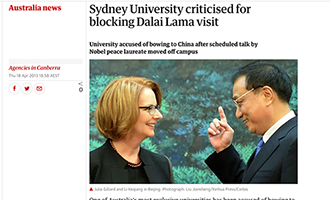 Lecture by Dalai Lama
In 2013, a planned lecture by the Dalai Lama at the University of Sydney was cancelled after the head of the Confucius Institute entered into discussions with the university management and the organisers of the talk.
The organisers were pressured to bring back the event after a vigorous joint campaign by a university student who supports the Tibet issue, allies on the university campus, and Tibet Support Groups including ATC, but on the condition that the event was to be held off campus.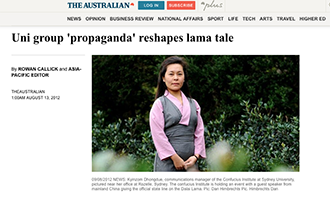 Talk by 'Tibetologist'
In 2012, again at the University of Sydney, the Confucius Institute organised a lecture on Tibet and the Dalai Lama. The talk was presented by a Chinese 'Tibetologist', known for claiming that Tibet was always part of China. ATC called it a propaganda event where the Tibetan perspective was not heard.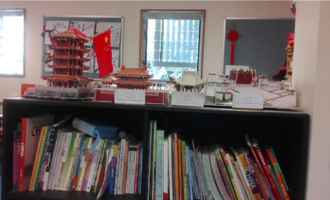 Tibet's Potala Palace
In 2018, ATC got hold of this photo, taken at a Confucius Classroom at a Sydney primary school. The picture shows a replica of the Potala Palace in Tibet's capital Lhasa, the winter palace of the Dalai Lama and headquarters of the Tibetan government before China's invasion in 1950, along with those of historical monuments in Beijing. What do the young children at the school learn on Tibet, when the curriculum is controlled and supervised by the authorities in Beijing?
How can you join the campaign?
If you are a student, academic or parent and your university or school* has a Confucius Institute or Confucius Classroom, we need your help. Contact us to express your interest in the campaign.
* We are currently focusing on NSW schools.
Here is the list of universities with Confucius Institutes:
University of Sydney
University of NSW
University of Newcastle
University of Melbourne
La Trobe University
RMIT
Victoria University
Griffith University
University of Queensland
Queensland University of Technology
University of Adelaide
Charles Darwin University
University of Western Australia
Here is the list of Confucius Classrooms in NSW:
PRIMARY SCHOOLS
Chatswood Public School
Hurstville South Public School
Kensington Public School
Rouse Hill Public School
HIGH SCHOOLS
Bonnyrigg High School
Chatswood High School
Concord High School
Coffs Harbour High School
Fort Street High School
Homebush Boys' High School
Kingsgrove North High School
Mosman High School
Rooty Hill High School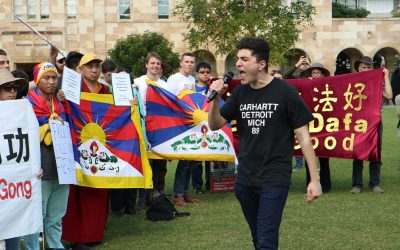 Over 3,000 supporters like you have signed our petition calling on UQ to close its Confucius Institute. Three months on, Vice-chancellor Peter Høj has failed to respond to our petition. Our campaign to end China's interference into Australian education is not going to be easy, but we are not giving up.
read more