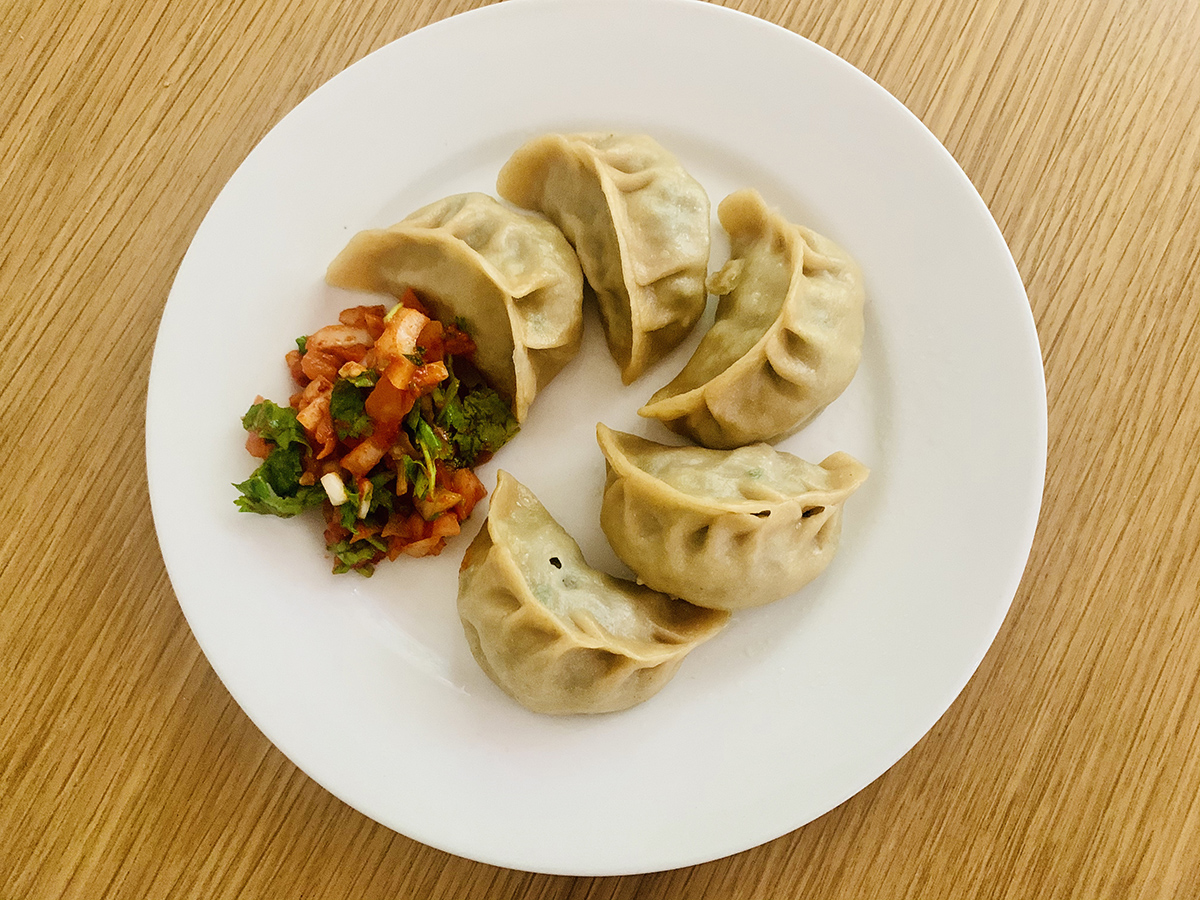 This recipe is prepared by our former Executive Officer Kyinzom Dhongdue, a passionate home cook, to celebrate Losar with our supporters.
Momo is the most popular Tibetan dish enjoyed by everyone in the family. It is Tibetan dumpling stuffed with mince meat, vegetables or cheese.
We call it a healthy Tibetan comfort food.
They are different ways of cooking – steamed, fried or pan-fried or boiled in soup (called mothuk).
Steamed momos are the most common. They come in two main shapes – round or half-moon.
Traditionally, the filling is mostly meat –  usually beef or yak in Tibet. Pork, chicken and mutton can also be used. The meat is mixed with onions, ginger and some vegetables.
The common ingredients for vegetarian momos are potato or cheese and spinach. A few other vegetarian combinations are tofu and spinach; cabbage, carrot and french beans; vermicelli (or rice noodles), mushroom and bok choy. It's really up to you.
Tibetans like a juicy momo, accompanied by hot chilli sauce (feel free to replace it with any sauce).
The recipe here is for beef and chives steamed momo.
INGREDIENTS
500 gm of mince beef
2 small bunches of chives
One medium-size onion
4 cm of ginger
½ to ¾ teaspoon of salt, depending on taste
A pinch of ground black or red pepper
2 cups of water
2 tablespoons of vegetable oil
500 gms of all-purpose flour (we use wholemeal flour as an healthier option)
PREPARATION TIME
1-1.30 hour
COOK TIME
15 mins
INSTRUCTION
1) Making the dough
1a) Start with preparing the dough. First add 1 cup of water to the flour and mix it well. Add more water if necessary. Knead for around 5 minutes to get a smooth medium-soft dough. You don't have to be very exact about the measurement of the water or the softness of the dough. It will be fine as long as it is not too hard or too soft. Tibetans hardly take measurements while making momo.
1b) Cover the dough with a lid or tea towel to rest while you prepare the filling.
2) Preparing the filling
2a) Chop the ingredients – onion, chives and ginger – into very small pieces and mix them with the mince beef.
2b) Add ½ teaspoon of salt, 1 tablespoon of vegetable oil and water each, and the ground pepper to the mixture. Combine all together. Take a small amount to taste. Add more salt if required.
3) Putting it together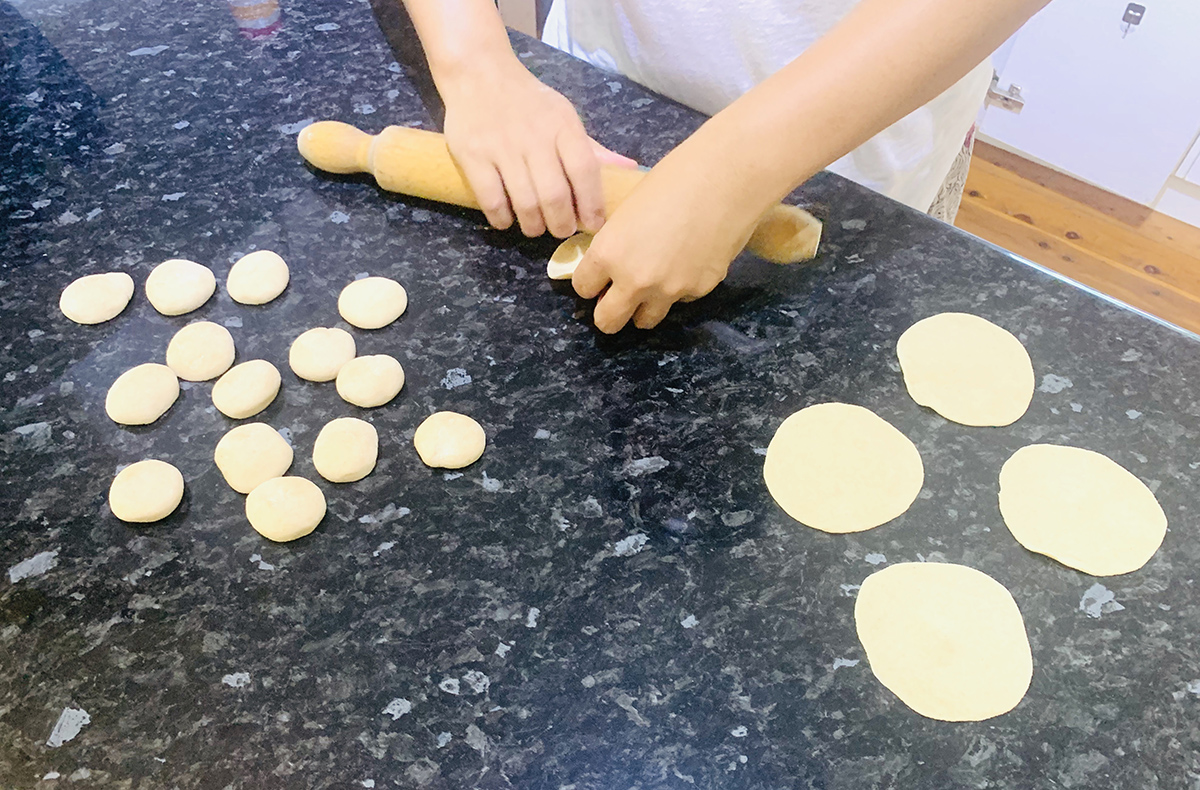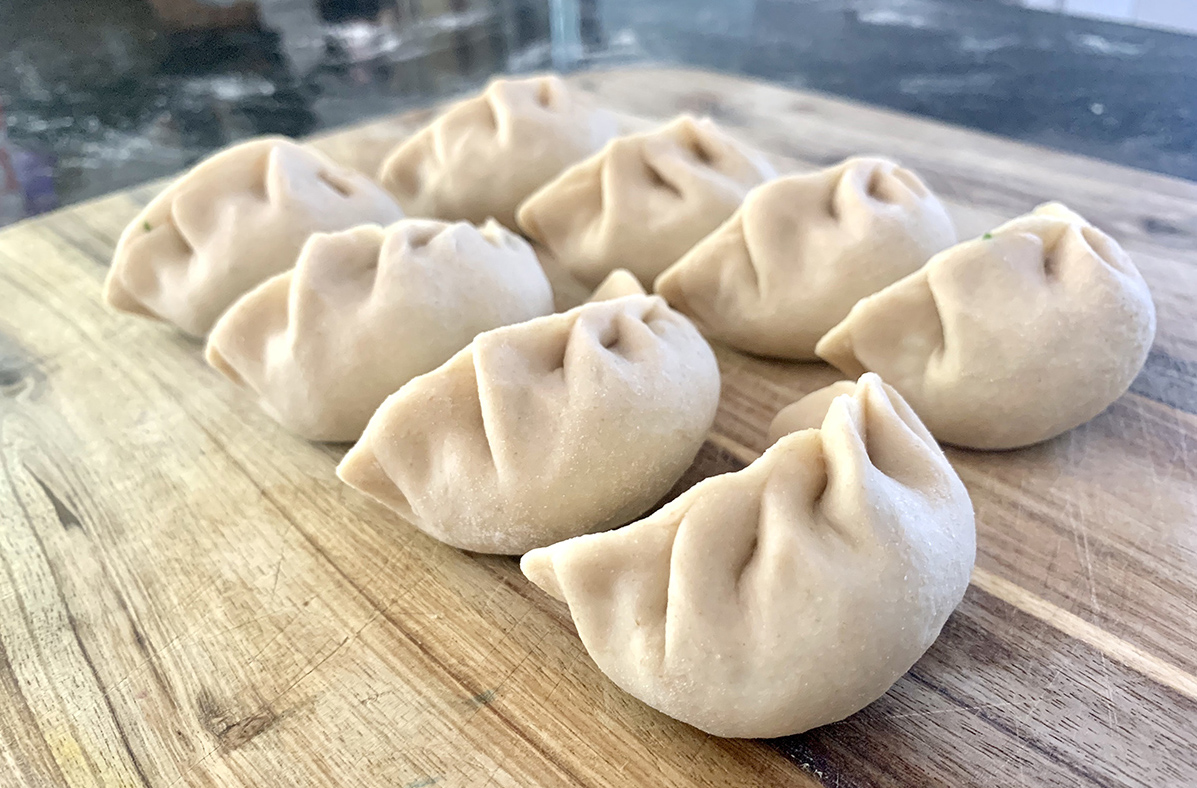 3a) When the dough and the filling are ready, it's time to put them together.
3b) Get your steamer out of your cupboard and grease it with oil.
3c) Now it's time to turn your attention to making the shape. Put the dough on a chopping board and roll it out thinly using a rolling pin.
3d) Cut it into small circles, roughly the size of your palm, for each momo. An easy way to do this is to use a cup or glass. Turn it upside down to get the circles. The traditional way, though more difficult, is to take a small ball of dough, roll each ball and flatten it into a circle, making the edges a bit thinner than the middle. This requires some practice.
3e) When you have a circular piece of dough, add the filling in the middle. The amount of the filling can be roughly one teaspoon and a half, or more depending on the size of your dough.
3f) There are two different shapes of momo – round or half-moon shape. We have used the latter as it is easier to make.
3g) When the filling is placed in the middle of the dough, begin to pinch the two edges, just enough to make a small fold between your thumb and forefinger. This is the first step towards getting a half-moon shape.
3h) Then fold over a very small piece of the dough, pinching it down.
3i) Continue folding and pinching from the one end to the other and you will get a proper half-moon shape. This takes a fair amount of practice. You can experiment with more simple shapes and gradually move closer to the doing a beautiful half-moon shape.
3j) Place the momos in the lightly-greased steamer.
4) The final step
4a) Fill the bottom pot of the steamer with ⅓ water and boil it just before you are ready to start steaming.
4b) Steam the momos for about 15 minutes (10 minutes for vegetarian momos) and then serve them hot.
Enjoy the momos with any sauce of your choice. The Tibetans love a hot chilli dip with soy sauce. Momos are juicy, so be careful when you take the first bite.
Making momos is a very social activity with family members coming together to chip in.
If you enjoy this recipe, please share it with your friends. You may also like to try our Khapsey (Tibetan cookie) recipe.