Series on Tibetan businesses – Snowlion Plastering Ltd
Read the second part of our series, by Tenzin Saldon, profiling Tibetan businesses around Australia.  
Saldon, a former Tibetan Lobby Day delegate, is based in Newcastle where she is studying a double degree of Business and Law. She was one year old when her family moved to Australia as refugees. "My father is a former political prisoner from Tibet, where he was imprisoned for writing a poem expressing his aspirations for freedom in Tibet. My father's experience has shaped me as a young Tibetan growing up in Australia."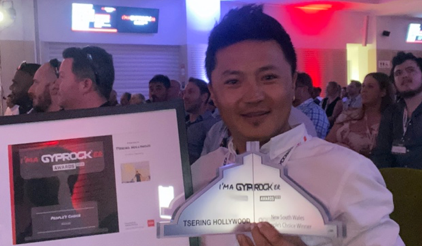 SNOWLION PLASTERING LTD
Tsering Darpo is a Tibetan business owner who currently resides in Campbelltown, NSW with his young family. He was born in Sog, a village in Kham, Tibet and fled to India with his mother and young brother in 2006. He remembers his childhood growing up in his hometown as "pretty good," however even as a child, he recalls the lack of freedom even though he was living in his own country.
"In India, my mother was a political related refugee from Tibet and in 2013 had the opportunity to come to Australia". At that time, Darpo was 18 and was not able to come with his mother and younger brother. Once his mother arrived in Australia, she applied to gain a visa for her son and successfully the young future business owner came to Australia in 2014. Although he was studying to become a civil engineer, he chose the decision to move to Australia to be with his mother and younger brother. He still has half of his family back in Tibet.
When arriving to Australia, he found it very peaceful and didn't find it challenging to make changes. Although, it was totally different, the level of freedom and democracy in the country and the way in which people treat each other made for no complaints when trying to adjust. He says, "I feel very, very happy here. On the other side, for my family in Tibet I miss them very much sometimes."
He explains how there are many Tibetans in Tibet who are struggling without freedom. For the future of Tibet, his biggest wish is that His Holiness the 14th Dalai Lama is able to go back to Tibet and for our own people can meet him. He only hopes for there to be more human rights and equality.
He was interested in building and construction and decided to go labouring. He started as a tradesman and then his younger brother joined the trade and one day said that they should start a business together. Tsering Darpo laughs as he remembers his younger brother saying, "Lets open a business, who cares you know, we have nothing to lose, if we win, we win."
Snowlion Plastering Ltd is a plastering business established in 2016. Darpo comments that his business is picking up now, however it will still take some time to take off. The business does plastering, as well as, renovations, partitions, insulations, all kinds of fire and sound checks, and different ceilings and handmade designs. It is Sydney-based, but the business has done some jobs in Nowra, Central Coast and Newcastle. His business has also completed work for Channel 7 House Rules, Channel 10 Living Room and Selling Houses Australia.
Darpo says that the successful part of his job is the quality and guarantee we leave for their clients. Snowlion Plastering Ltd has been the finalist for the People's Choice Award in 2019 and the winner of the Northern Beaches Local Business Award in 2018. He is very supportive of the Tibetan community and has sponsored soccer matches for the annual Tibetan Youth soccer tournaments.
From his personal experience managing businesses, Tsering Darpo advises other Tibetans who may want to start a business to consider the laws and regulations in Australia. He also says, "to open a business, you don't have to fear anything."